Biscayne Bay adventures in December.
Whew!
2012 is over! What an insane year of everything completely devastating, wonderful and everything in between. A true test of strength and resilience, the formal calendar year is over and another one starts anew. It's time to powerhouse in 2013 and I'm more than ready for this upcoming year, which seems to be quite full of opportunity and adventure.
It's high time to admit though, that I'm a terrible blogger- seriously. No real shame about this, but I don't post frequently enough and things get really backlogged... which then makes is difficult to sit down and write about everything at once. I've been meaning to post the following things for awhile now, but I was sucked into Miami Art Basel world and then trapped working in a couple museums this month (installing some pretty great exhibits, if I can say so myself). In all this cash money work, there's not much time right now to be that involved in any personal art projects per se, but at least there is a new band that I've started with some amazing folks. Currently, these new practices (and the music recorded during them), are ruling my universe. I'm not the kind of person who listens to music on the train, but I've taken to rocking these recordings, working the parts out in my head. So exhilarated for this band- it's particularly nice to come back to music refreshed, ready to make the kind of music that I've been wanting to make for years now. If you like The Ex or Dog Faced Hermans (two inspirations shared by the band), then this might be more up your alley, for sure....
----------------------------------------------->>>>>
MOVING ON TO THE LIST! From newest to oldest news...
----------------------------------------------->>>>>
I'll be reading (or doing some kind of projected presentation) on March 12th at Bluestockings (here in NYC) with Nicole Georges and Cassie J. Sneider. Nicole and Cassie are touring in support of Nicole's new graphic novel/ memoir Calling Dr. Laura, which I'm excited to check out. Pretty sure that it starts at 7pm and I'm guessing that I'm first (but you don't want to miss any of it) , so try to make it on time if you can.
----------------------------------------------->>>>>
"This book is just so raw, it's right..."
Awesome little interweb video with a spot on description of Those Fucking Unicorns, by Sy Wagon, which is the latest Pegacorn Press release. Last Gasp is my main distributor for Pegacorn Press and that's cause they rule!
Love the censor dots on this...
----------------------------------------------->>>>>
I was invited to read at this awesome event at the University of Chicago, but unfortunately, I can't make it. Being a fan of special collection libraries though, I would if I could:
My Life is an Open Book: D.I.Y. Autobiography, is an exhibit celebrating zines, primarily autobiographical works produced by women representing the 1990s to the present day. Future Tense, one of the first official Pegacorn Press publications is being exhibited, which is really rad!!
February 22, 2012
Special Collections Research Center, University of Chicago Library
1100 East 57th Street, Chicago, IL 60637.
Reception begins at 5:30pm. Readings begin at 6:30pm.
----------------------------------------------->>>>>
I did an interview about a year ago with Melanie Maddison, a UK based feminist extraordinaire, for Pikaland, which is an international art and illustration blog. Since then, Melanie has interviewed more badass ladies and compiled it into Colouring Outside the Lines, #6. A really thick zine, besides myself, it features a laundry list of great interviews with such ladies as: Lauren Denitzio, Fly, Megan Kelso, Chandler O'Leary and Jessica Spring, Allyson Mitchell, Summer Pierre, Lindsay Starbuck, and Anke Weckmann.
It's an amazing zine and I highly recommended getting a copy while you can, particularly if you're looking to hear more about personal processes, the inspiration fueling all the artwork and what makes all these ladies "tick."
----------------------------------------------->>>>>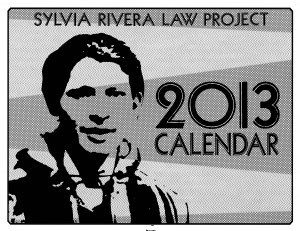 One huge project that I've been negligent to post about is the 2013 calendar that I designed for the Sylvia Rivera Law Project here in NYC. They're a completely amazing organization that help low income and people of color who are trans/intersex/gender non-conforming get access to services they need. They do so much important and necessary work that it would be impossible to list it all, but another really important aspect of the SRLP is that they help people who are incarcerated. The calendar was designed mainly using art made by imprisoned PAC (Prison Advisory Committee) members and it was a pleasure to spend time with these works and format them into a collection that's more accessible to the larger public. (Some of the collages I created were comprised of art made by PAC members who are in the same prison, but who are separately locked up in solitary confinement and have never had the chance to meet face to face.)
Unfortunately, I didn't print the project and the offset printer we ended up using was "highly problematic," but that didn't ruin the spirit of the larger picture and all the incredible work that the SRLP does. If you'd like to order a calendar or have some money that you'd like to donate to the SRLP, you can do it here:
----------------------------------------------->>>>>
Isn't that enough for now?
There's definitely a laundry list of other projects and news in the works and I hope to post them soon, when things are more confirmed...
Until then, HAPPY 2013!
XOXO,
C.P.